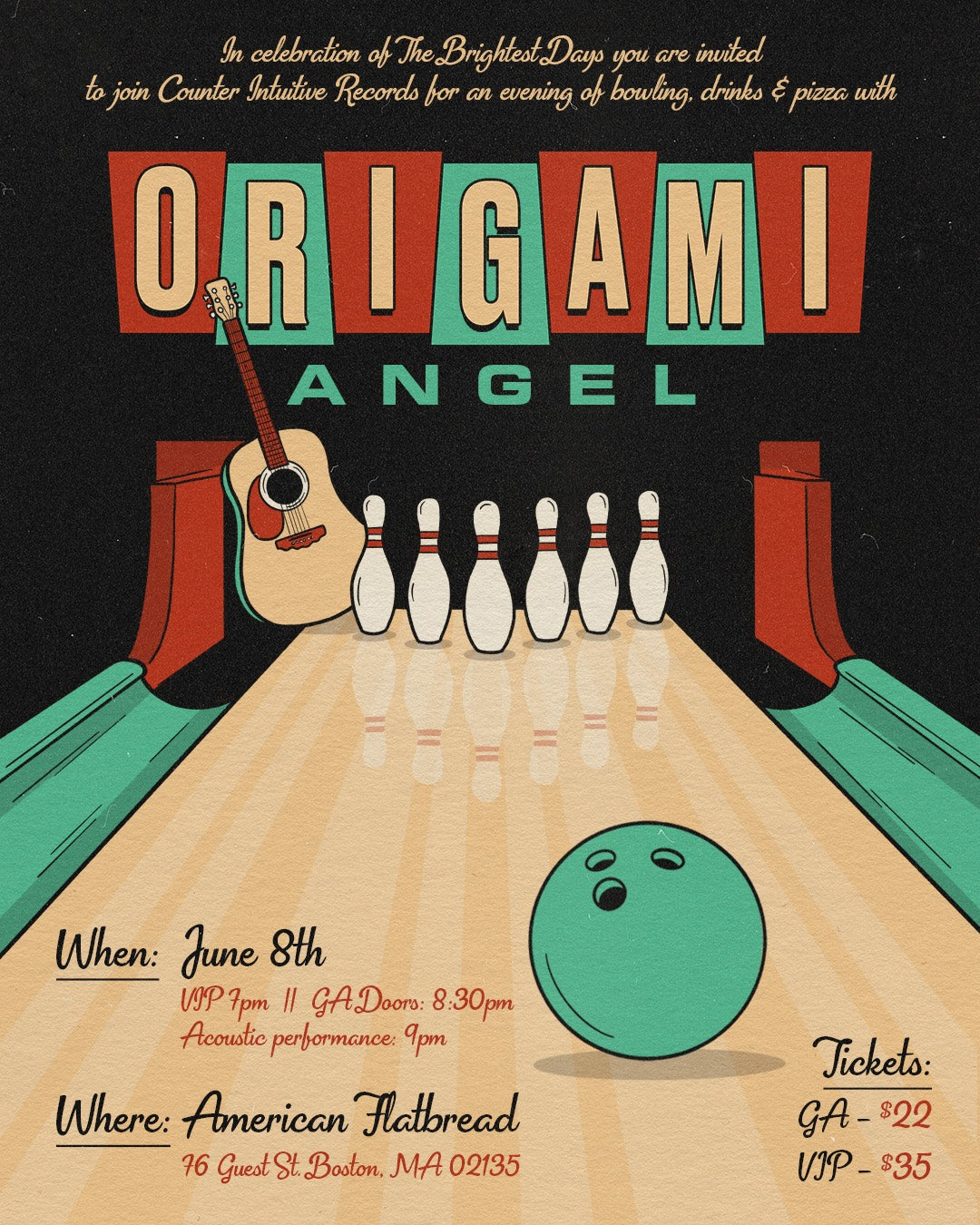 Origami Angel Tickets - Brighton, MA June 8th **SOLD OUT**
Ticket:
General Admission Ticket
***SOLD OUT*** ***if you bought a ticket and paid a shipping fee - it will be refunded***
Origami Angel June 8th, 2023 performing on the lanes at American Flatbread celebrating The Brightest Days - VERY LIMITED CAPACITY

76 Guest St, Boston, MA 02135
VIP 7 PM Entry - GA 8:30 ENTRY - SHOW 9 PM
VIP TICKET INCLUDES: Access to the show, early access to private event space at Flatbread where there will be a pizza buffet, private bar, bowling, band/label merch pop up, first dibs at seats on the bowling alley at 8:30 for show time
We will have event exclusive Origami Angel Merchandise as well as a Counter Intuitive Records Pop-Up Shop - everyone will have access to everything while supplies lasts. VIP will have first access.
INFO: the name you order tickets with will be on a list at the door to get access to the event with a + for however many you get. so if your name is origami angel and you order 2 tickets it will say origami angel +1 at the door. 4 tickets max per person. 
FLATBREAD is open until 11 PM so stick around for food/drinks/bowling after the show ends if there is time!
THERE WILL BE SEATING ON THE ACTUAL BOWLING LANES - LANES HAVE GUTTERS - BE CAREFUL NOT TO TRIP AND HURT YOURSELF - CIRECS & FLATBREAD ARE NOT LIABLE IF YOU DECIDE TO SIT ON THE LANES AND TWIST AN ANKLE OR SOMETHING
email counterintuitiverecords@gmail.com with any issues regarding your tickets/entry. 
NO RESALE - NO REFUNDS
FLYER ARTWORK BY MIKAELA PALERMO